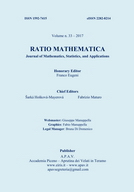 Ratio Mathematica
RATIO MATHEMATICA - JOURNAL OF MATHEMATICS, STATISTICS, AND APPLICATIONS
Ratio Mathematica is an International, double peer-reviewed, open access journal, published every six months (June-December). This periodical has a long tradition, indeed its first issue was published in 1990. It aims to publish original research articles in the fields of Mathematics and Statistics. However, contributions with applications of Mathematics and Statistics to Social Science, Business Administration, Engineering, Programming, Economics, Management, Fuzzy Logic, and Probability, are welcome. Only English-language publications are accepted. 
The main topics of interest for Ratio Mathematica  are:
Foundations of Mathematics: Epistemology of Mathematics, Critique of the Foundations of Mathematics, Elementary Mathematics from a higher point of view, Elementary Theory of Numbers, Foundations of Mathematics of Uncertain; Criticism of the Foundations of Computer Science.
Applications of Mathematics: Applications to Engineering and Economics, Applications for Management and Business Administration, Decision making in conditions of uncertainty, Theory of Games, Fuzzy Logic and Applications, Probability, Statistics and Applications.
New theories and applications: Algebraic hyperstructures and Applications, Discrete Mathematics and Applications, Fuzzy structures.
New theories and practices for dissemination and communication of mathematics: Communication of History and Fundations, Communication of Discrete Mathematics, Communication of Probability and Statistics, Communication with Media.
Indexing: Ratio Mathematica is abstracted and indexed in: 
PKP (Public Knowledge Project)
The printed copies of the journal are stored at the National Library of Florence and Provincial Library of Pescara, Italy.
Google Scholar Metrics (2017-10-22)
Search terms
Publication/Journal: "ratio mathematica" OR "ratio math"
Years: all
Data retrieval
Data source: Google Scholar
Query date: dom 22 ott 2017 15:54:20
Cache date: dom 22 ott 2017 15:55:11
Query result: [0] Operazione completata.
Metrics
Publication years: 1990-2017
Citation years: 27 (1990-2017)
Papers: 266
Citations: 506
Citations/year: 18.74
Citations/paper: 1.90
Citations/author: 342.92
Papers/author: 184.00
Authors/paper: 1.74/2.0/1 (mean/median/mode)
Hirsch h-index (a, m): 12 (3.51, 0.44)
Egghe g-index (g/h): 16 (1.33)
PoP hI,norm: 9
PoP hI,annual: 0.33
View Journal | Current Issue | Register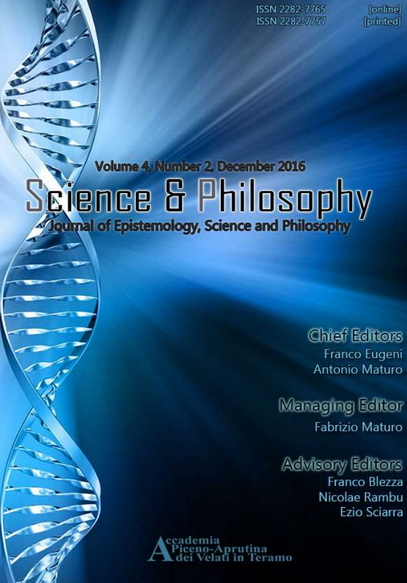 Science & Philosophy
SCIENCE & PHILOSOPHY - JOURNAL OF EPISTEMOLOGY, SCIENCE AND PHILOSOPHY
Science & Philosophy is an International, peer-reviewed, open access journal, published every six months (June-December). Science & Philosophy aims to publish original research articles but also short communication and review papers of general significance that are written clearly and well organized.
The journal is a source of information for professionals in a wide range of scientific discipline. Indeed, Science & Philosophy is a multi-disciplinary journal that covers fundamental and applied research in various areas related to Science, Epistemology and Philosophy, including all important recent developments in Mathematics, Statistics, Economics, Business Administration and Social Science.
Both English and Italian languages are accepted for publications.
The journal is oriented on the scientific analysis of social phenomena, both by developing research with quantitative and qualitative methods and by interpreting with philosophical criticism.
Science & Philosophy has its focus in the study of social phenomena both macro and micro, using the interdisciplinary approach of the social sciences, from economics to law, from politics to sociology, from history to social statistics. 
The journal focuses on the analysis of both phenomena and trends, for designing local developments and systems ecology. Scientific analysis is supported by an ethic of sociability.
Indexing: Science & Philosophy is abstracted and indexed in: 
PKP (Public Knowledge Project)
The printed copies of the journal are stored at the National Library of Florence and Provincial Library of Pescara, Italy.
View Journal | Current Issue | Register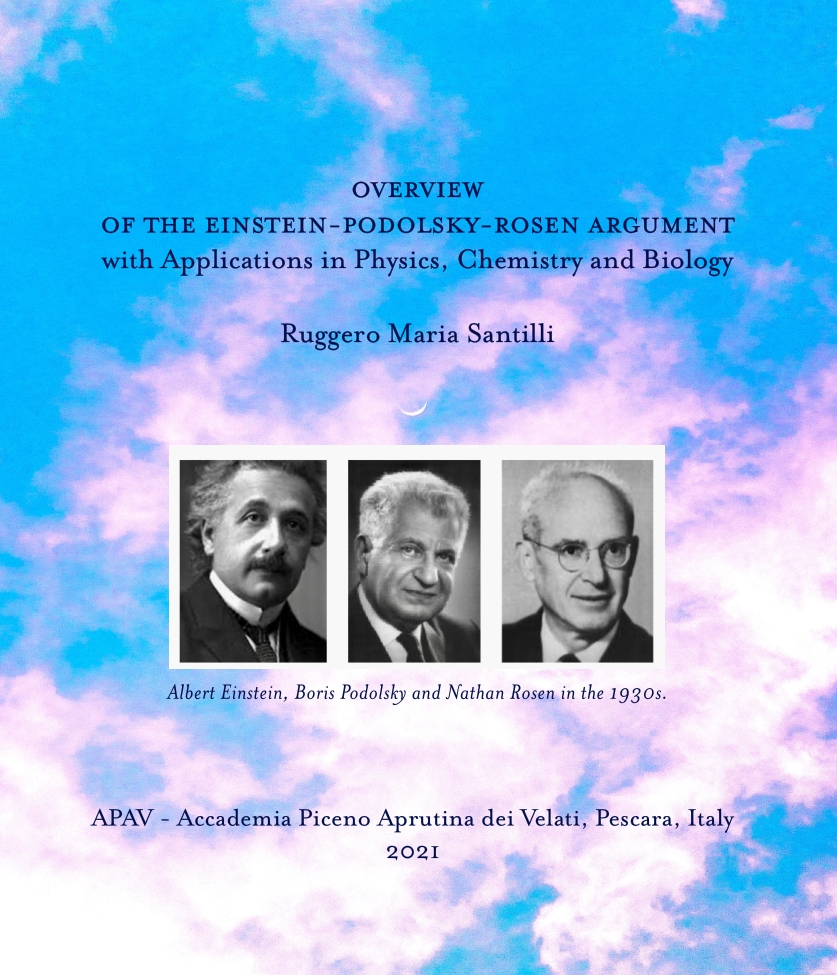 HoPUE Housing Policies and Urban Economics
Housing Policies and Urban Economics (HopUE) is an international scientific peer reviewed journal focused on housing policies and integrated urban planning, analyzed in the wider disciplinary context of the urban economics. Contemporary urban planning is the main object of investigation, so to develop the economic, social, cultural and environmental dimensions of regeneration for ancient city and changing areas.
In agreement with the epistemological character pertaining to the other Eiris journals, HopUE collects contributions, studies and best practices of different nations to address the emerging urban challenges which require competitiveness, efficiency, inclusion, presence of network, services for cities.
Urban policies have experienced profound changes: strategic documents of the EU program have placed the need for a broader view of decision-making; the experience of the Strategic Plan of the City has introduced the need for a shared vision of development through which to interpret the urban context, considering the local needs and involving several institutional, social, economic and cultural stakeholders; territorial integrated projects have fostered effective systemic effects of interventions, through objectives and works centered in specific areas; the most recent orientations of urban planning have proposed structural and operational approaches, with the consequent overcoming of the traditional tools for territorial governance.
The themes for Housing Policies and Urban Economics concern: national and international debate on the problems of contemporary living, analyzed both in urban and building terms, both in relation to the administrative and participatory aspects to encourage investments; evaluative questions to compare and guide the public decision-making in the transformation and regeneration of urban areas, analyzed in the framework of the relationship between territory and economic activities; conservation and enhancement of value of architectural heritage in ancient or more recent cities; externalities arising by the processes of cultural planning; issues relating to the use of public space and territorial welfare, with reference to accessibility to services, conciliation between life and work times, and suitable functions required for the urban living; issues of sustainable urban mobility, analyzed also in relation to the policy objectives of the European urban transport; regeneration of the suburban areas and preservation of agricultural land and landscape.
Honorary Editor is Antonio Maturo, Full Professor of Mathematical Methods for Economics, a scientist of the Mathematical Models of Social Sciences and Architecture. In 1995 we began a research on mathematical models to support the evaluation of urban plans at the Faculty of Architecture in Pescara. The study started from the complex programs of urban intervention established in Italy in the early 90s; these programs required tools to analyze the feasibility of investments for transparency and fairness of the interventions and to support decisions characterized by complexity and uncertainty.
The members of the Editorial Board represent all the above themes: university professors, scholars and researchers related to the fields of urbanism, evaluation and economics applied to territorial issues, architectural historians, location theorists, macro-economists, sociologists, mathematicians, statisticians, technologists, epistemologists.
I thank Prof. Franco Eugeni for his active and continuous engagement in the dissemination of Science, Philosophy and issues pertaining to the relationship between Economy and Territory; Prof. Ezio Sciarra for his skilful contribution to research on the issues of Welfare; Prof. Giuseppe Manuppella, promoter and curator of the Information technology (IT) services of HoPUE.